On Thursday 18 September, we (the DM2E team from Net7) conducted a community session at the DARIAH-EU's 4th General Virtual Competency Centre (VCC) meeting where we presented the beta version of Pundit2.
In the first part of the session we introduced the audience to the principles of semantic annotation making a short presentation of the main features of the Pundit software and its components.
In the second part of the session community, we carried out some practical exercises. The People Time Person (PTP) experiment allows users to annotate snippets of text expressing the concept that a person has been in a certain place at a certain time. The Annomatic experiment allows users to create annotations semi-automatically. After creating annotations some visualization tools have been used in order to display the "knowledge" created during the experiment. The following website has been used to facilitate the experiment conduction http://dev.thepund.it/dariah2014/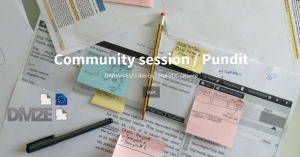 At the end of the experiments we asked participants, who were about 30, to complete a questionnaire to gather their feedback.